"I'm gonna put on an iron shirt, and chase the devil out of Earth"
Max Romeo


The first time I ever met Steven Skrzybski was in one of those interchangeable Friedrichshain cafes, whose very blandness comes as a natural consequence of the effort they go to to avoid showing it. It was full of ill-matching furniture that wouldn't have looked out of place in his Grandmother's house in East Berlin, but that had been collected with a rigorous eye. It was harmless, mostly unpretentious and pretty typical of the time and place.
Everywhere we met would be, in fact.
Beautiful people sat at fat, bow legged wooden tables that had been cleaned but not sanded, on old sofas that you could feel the springs through. They typed on laptops, and talked on telephones with a sense of importance that the conversations, when overheard, as they were meant to be, didn't really seem to deserve.
The coffee was fair trade, the teas international, hand picked, and pulled from boxes illustrated with images that reminded me of the longing for sunshine and simplicity of the Capri Fisher song, a bland romantic ideal based on purest far-away fantasy. Stevie, as I called him with a familiarity our relationship did not deserve, sat in a tracksuit, he looked confident but his eyes were shy.
He didn't mind me calling him Stevie. I am older than him, and he's been brought up well. His manners are impeccable.
He preferred to talk about more about football than himself. Whether it be about long summer evenings spent kicking a ball through grass that grew waist high on him, but only just past the ankles of most of the other kids, to watching the Champions League the night before. He would talk about scoring with a first-time volley from 25 yards out away at Dortmund a couple of minutes after coming on as a sub, the same way he talked about scoring against Hertha BSC when he was a kid.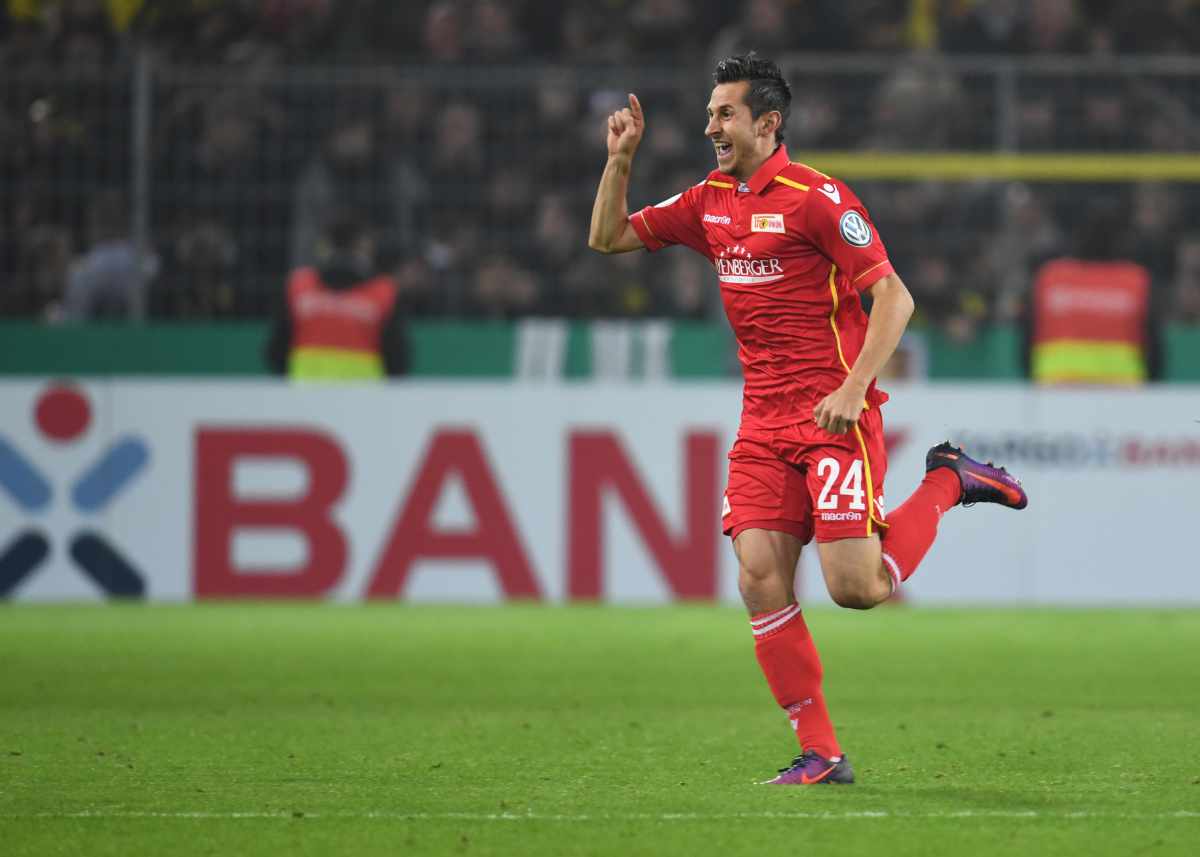 But Stevie was on the rise. And, let's be honest here, scoring from 25 yards out away at Dortmund is definitely and definitively better than scoring against Hertha's under 15's.
He had got where he had through sheer-bloody willpower, through diligence and discipline and a refusal to ever countenance that professional football was not for him.
He explained that this was nothing extraordinary, that he would have time for drinking and partying when his playing days were over, though I never really believed that he would.
For some people are just sober and hard working.
He said he got it from his mum who was born in East Berlin, and it stretched back to his Great-Granddad who had been born in mid-Silesia before settling down here forever. He said he got his love of the game, as well as his impatience, meanwhile, from his Dad, who died six years ago, when Stevie was still striving to break through into professional football.
He had a new contract from Union on the table, but he hadn't signed it yet. He could wait, he said, though I know that this prevarication worried some at the club. He said he wanted to focus on playing, to keep on scoring, to become a proper centre forward for the first team like he was in the under 23's, and where he felt most like a complete footballer. He wanted to enjoy himself in his own quiet way, too and, I think, this business stuff seemed to always get in the way of that.
He also talked about being open to change, about the possibility of possibilities opening up. There really was another world outside of Berlin that took football just as seriously. Leaving, at some point, was on his mind, but it was also as if he couldn't see how he'd ever be able to do it.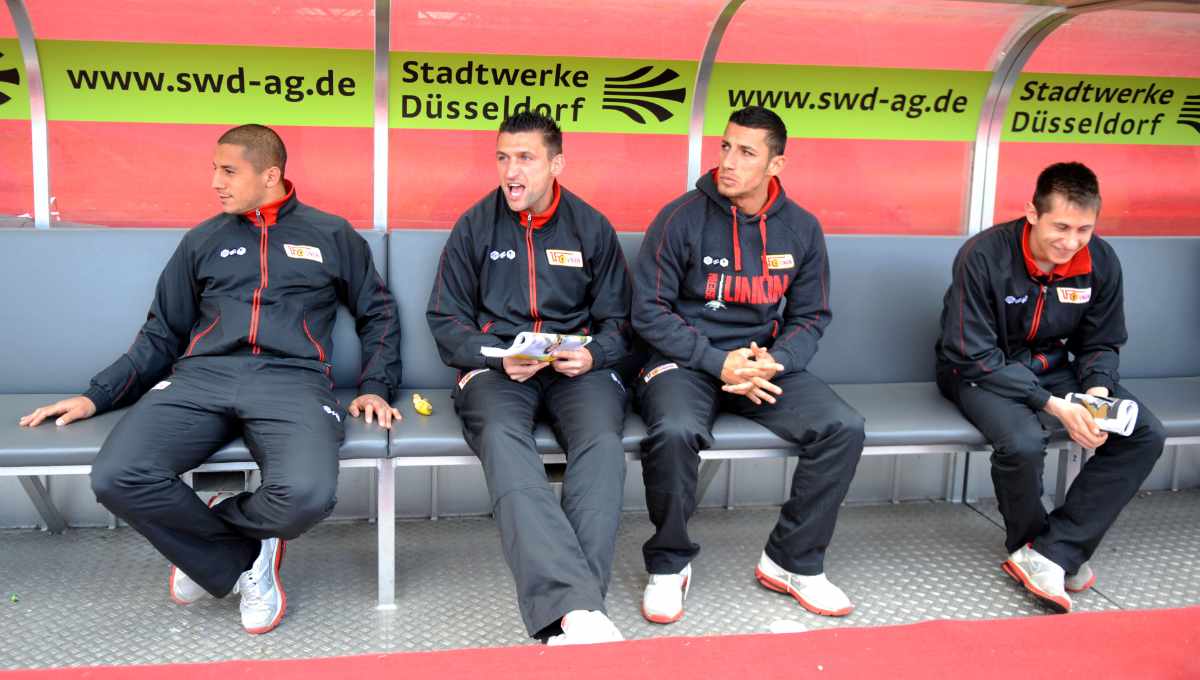 And when he talked about players like Torsten Mattuschka and Karim Benyamina, big fish in a pretty, but also pretty small, pond, though they were both long gone, he seemed surprised that he could be spoken of in the same sentences as them. It was around then I think I asked him abut Ronny Nikol, and he said with a simple matter-of-factness that he had been a mascot against Gladbach.
"In the cup?" I asked, somewhat stupidly. It was until this year the only time they had ever met. He nodded.
Skrzybski had actually watched pretty much the whole of that tumultuous, gorgeous mess of a league-winning season in 2000-01. He was there for every home game under Georgi Vassilev, The General, a man who smoked cigarettes laced with glass for breakfast, having got up early and barked at the dawn to awake.
Which it would do, of course, immediately and apologetically.
And then, in the semi-final of the DFB Pokal, a sold out Alte Försterei at night, a nine year old Steven Skrzybski walked out onto the pitch holding the enormous hand of an unnamed Borussia Mönchengladbach player.
"There's some things you don't forget," he said, over and over again in the hip cafe in Friedrichshain, as if transported back in time. And he hadn't forgot… he just never had any idea who it was that he walked with through that twisting opaque tunnel onto the pitch with in the first place.
I don't think that anyone had ever actually asked him about who it was before, and he didn't seem to care too much, either. It could have been Günter fucking Netzer, but to Stevie he was just another older footballer, just another guy in another green shirt with studs on his boots that click-clacked only until their noise stopped immediately, when they hit the mud of the pitch. A 4th division quality pitch that you sunk into as you stepped upon it, and whose divots after 120 and something minutes of blood and fire were like beach balls. He was just another guy who'd left a metal cabin that served as a changing room who then stepped out into the seventh circle of Hades.
I wondered immediately who was holding whose hand, really. If it was the Gladbach player who was like the kid, and Stevie who was leading him out. For he knows the Alte Försterei as well as anyone.
My friend Sebastian was there, too, that night. He says all he remembers is the mass of people on the terrace. He said you could jump into the air and be just held up by the weight of bodies around you. It was like swimming in the Dead Sea.
I wanted to hear more about how it felt to see Nikol, from Treptow – who had bottle blonde bleached hair and an I'm-going-out-on-the-town-tonight grin plastered all over his face – hit the winning penalty, left footed, as cool as anything, to win the shoot-out. But Skrzybski, as was Sebastian, were sketchy on the finer details.
They were caught up in a moment of vivid, teeming chaos and overwhelming joy.
It would mean Union meeting the other team in his heart in the final. One day, not a substantially long time before, he and his Dad had watched Schalke lose to Bayern on TV, and Skrzybski said he had felt sorry for them. It was just that, a natural consequence leading to a long-distance footballing love. He would support them ever since. It hurt that Union lost to Schalke in the consequent Cup final, but, for him, it could have been worse.
And though there are still many who are outraged by this stuff, that he could sleep under royal blue sheets while he was learning to walk in the shadow of The General, himself, who saw it as if he was having an affair, it wasn't that weird. There were few other Unioner at school. That he was caught between the club that took up all of his time, and one that he now supported from afar was an irrelevance, for they inhabited different universes.
That they should collide this once seemed inconceivable enough, it would almost certainly never happen again.
Union were a mess back then, always fighting to stay afloat, and if no-one else was willing to do it, then they would always shoot themselves in the foot. As there was once a time when it seemed impossible that Friedrichshain would be full of hip little coffee shops, it was also a certainty at the start of the 21st Century that Union would never reach the Bundesliga.
He finished his story and had a sip from a still water he drunk slowly from what looked like a new glass, made to look like it had been bought in a flea market.
He was unused to adulation and could live pretty much as he always had, anonymously, quietly, easily. He said of life in the former East of the city that there was still a sense of community there, that people knew each other, that the stereotypes, and all their intendant evils, of places like Kaulsdorf could never be true. It was like an island, he said, isolated from the rest of Berlin. And it was home. His girlfriend, Anja, had been born not far from there, too, and she loved the city even more than he. They'd recently moved in together not far from his mum's house where he had grown up.
— 2 —
The second time I met him was back in the same cafe, but, though only about six months had passed, it had grown somehow more sure of itself. The service was a little slower and surlier. It was as if the old furniture and raw brick walls had actually believed all of the newspaper articles about how it was at the heart of one of the coolest places on earth.
Stevie was, as always, excellent company and unfailingly polite. He was developing into a superb footballer, a right winger with a striker's eye for goal, and the way his story dovetailed with the development of Berlin was fascinating, but it lacked an edge he wouldn't betray until much later. He was certainly no Matti Nykänen, no Georgio Chinaglia, no W.G Grace.
There is an old, and possibly apocryphal story that Grace, the grand old man of English cricket, once refused to leave the pitch having been given out early in a match.
"They came here to see me bat, not you bowl," he chided whichever poor sucker it was who had dared make a dent in his ego. His argument would be that it is not arrogance if it is deserved, and he just continued to play on regardless of the laws of the game. Great sportsmen have to be that way. It's what gets them to the top of their pedestal in the first place.
They have to have be single-minded to spurn the opportunities of youth, and to be able to play under such extreme pressure in a place like the Alte Försterei. It's hard, Stevie said, to stake your claim on a changing room, to earn the respect of a disparate bunch of footballers with their own foibles, problems, vices and arrogant streaks. With their own cliques and in-jokes.
You don't get given that shit on a plate.
Back in the so called Golden Twenties Kurt Tucholsky wrote that there was too much Angeberei in Berlin, too much self-aggrandisement. But whenever we spoke, Stevie didn't have a hint of it about him, or at least he was steadfast in not betraying it. Though it had to be there, he didn't carry that arrogant streak into our interviews.
On the surface he made for a somewhat disappointing story. Stevie was too nice, too grounded, too solid.
He was in sports gear, still, this time, but it was sharper than before, less generic. His haircut was side parted in the contemporary footballer's fashion, but still somewhat uncertain, he had grown an Errol Flynn moustache, but it wasn't quite thick enough. There was still something of the boy about him.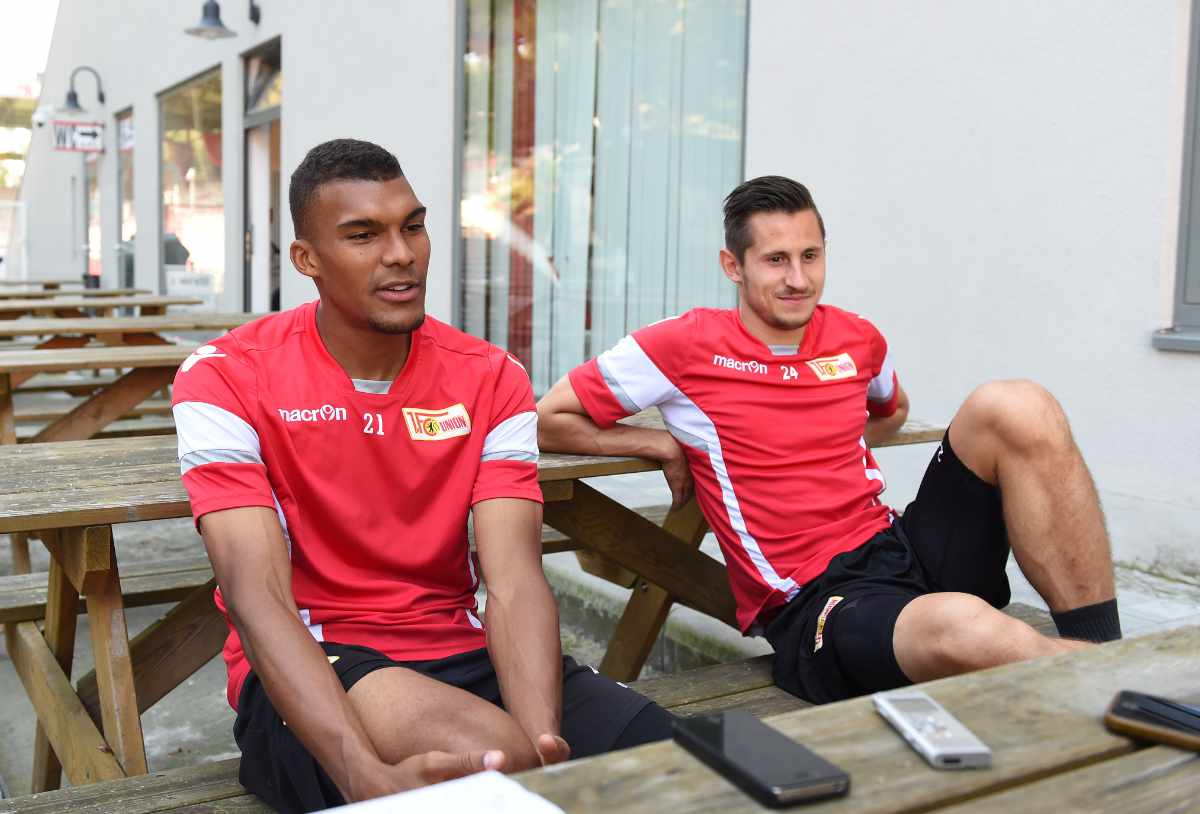 He had signed his new contract at Union, and was one of their undisputed stars, his home-town status rising him above the rest. But still he projected deference, he wanted to please. He talked about how much he and Anja loved going to visit Sebastian Polter in London. Now that was a cool town, he said. And there was definitely something attractive to him about the idea of playing football in the capital of the country that invented it.
We talked a lot about the difference between the leagues in England and Germany, about styles, about the fans and about the atmospheres in the stadiums.
But he was changing in himself, if slowly. He laughed with more certainty than before, he's got an infectious, high pitched giggle, and his answers were longer, like he had more of an idea about what he actually wanted to say.
"I am lucky," he said at one point, channelling his mentor, an Andre Hofschneider who would kick his arse around the Wuhlheide and back if he ever said anything else, if he ever started to rest on his laurels in the way that all too many talented young footballers do when they think they have made it.
"I am lucky that I have been able to make my hobby my job. But now I need to keep working to achieve more, to get where I want to be, to get better."
Stevie told me that he had signed his new contract under no illusions. I'd asked if Jens Keller had made any guarantees about appearances, if he'd been allowed to be held to ransom.
"No, to the contrary," he said. Keller had signed Akagi Gogia, he wanted more competition in the squad and "no-one would be guaranteed a place." He said he liked this, it showed the coach's ambition. That this was just how football is. He'd fought so hard to get here, he didn't mind carrying on. "It's something that all footballers understand," he said. Keller was also near his peak. Despite what felt like a disappointing end to the season, Union had come an unprecedented fourth in the 2.Liga.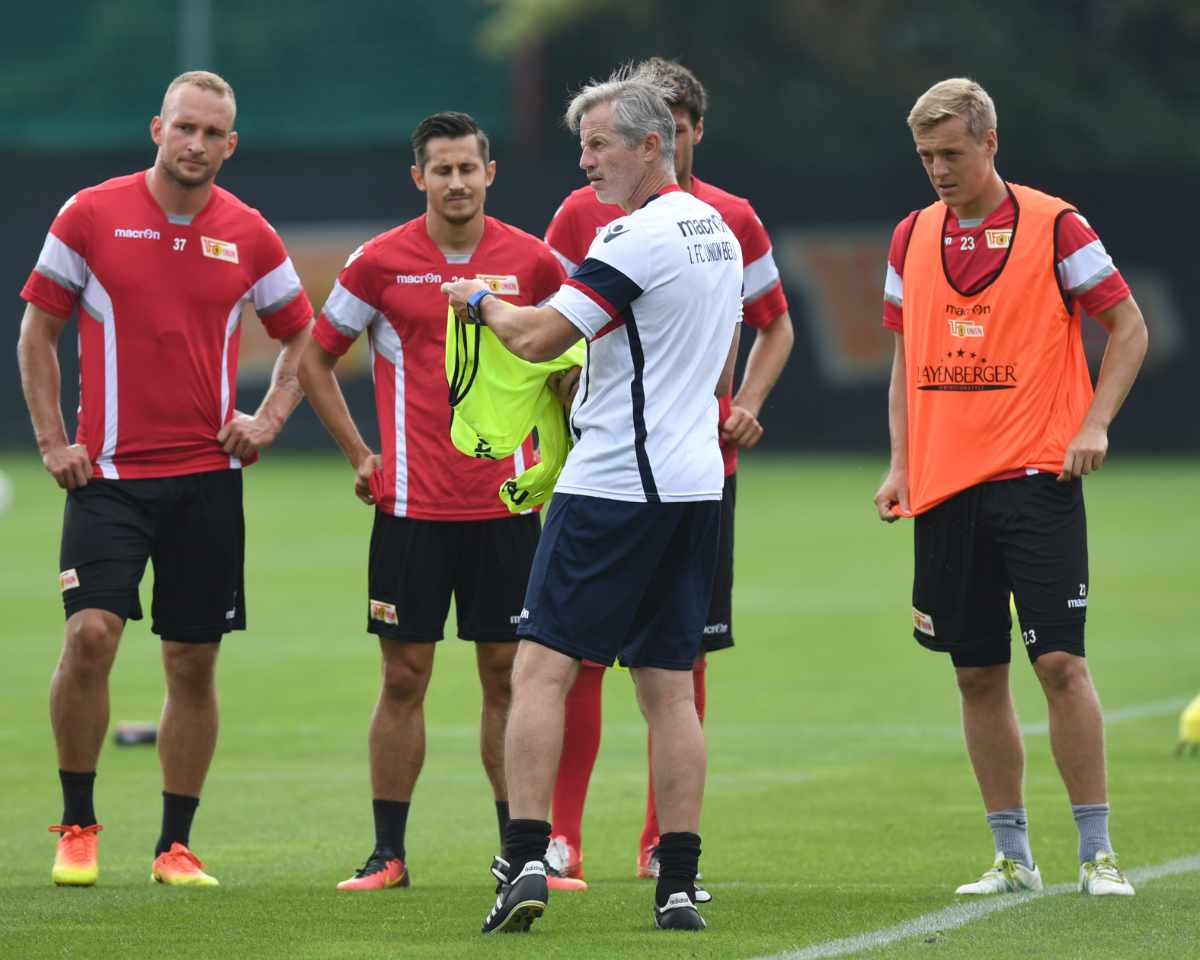 Disappointment is always relative. That season was better than how it felt at the end. Or especially how it now seems, with the blessed hindsight born of the successes to come.
Union struggled on the pitch that next year. Questions were being asked openly in the stadium of Keller, sometimes fairly, often not. It became a self-perpetuating circle, the tenser the stadium grew, the more mistakes seemed to be made. The performances grew stodgier, they kept conceding stupid goals, there was not enough cover coming from a midfield that was also struggling to create any moments of magic to erase the doubts. Worse, was that the players didn't seem to be showing enough desire. He would lose his spot to Gogia, but kept forcing his way back in.
He was arguably the most iconic player figure at the club, and was growing frustrated. I think at the time he also kept thinking about London, or at least, about other opportunities elsewhere
Things would come to a head after a 4-3 loss away at Heidenheim. He'd scored two, but Keller said that he would be back on the bench the next week, because he hadn't defended enough. Stevie countered that he was there to score goals. They now occupied intractable positions.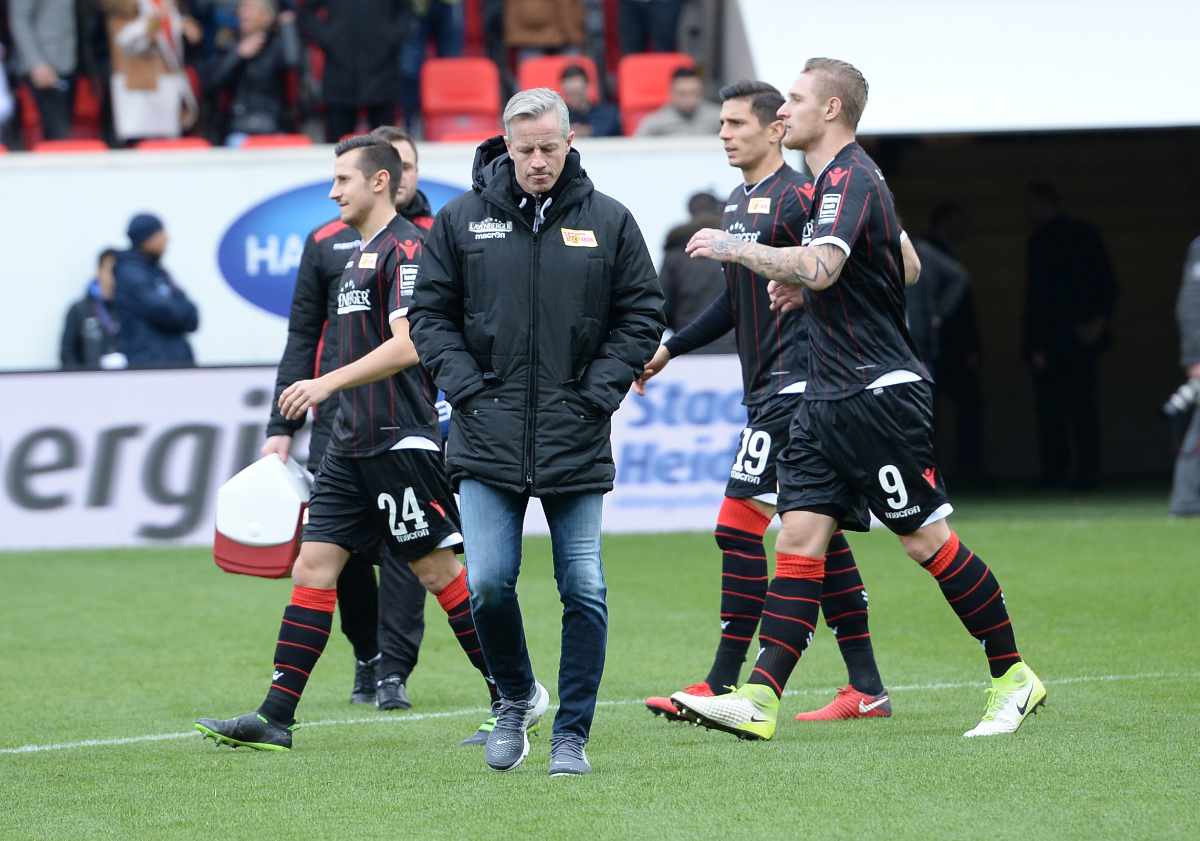 "Then I gave an interview to a paper where I said, if the club don't want me, then that's fine, but I'll have to look for somewhere else where I can play."
Keller took this as an undermining of his authority. He said that Stevie had insulted Simon Hedlund and Gogia, that he thought he was better than them. Keller had also been a player, a centre-back, he had a footballer's ego, and had never shied away from a fight in his life
"I spoke to Simon and Andy, and explained, I hadn't meant anything against them, and they understood," Skrzybski says now. Apparently, much of the rest of the squad took his side. Felix Kroos and Micha Parensen spoke up for him. Stevie says he'll never forget it. The embattled coach and embittered player were now backed into a corner, both of them refusing to back down. Stevie says he told the club "Keller is definitely the right man to lead Union, I would keep him. But if he stays then I have to go."
He repeats the fact he told the club that Keller was the right man to be coach, aware of any possible negative implications of what he said.
I'd been told this story before. I don't know if Keller tells it the same way. I presume maybe not, but history records that he wouldn't see out the month, anyway.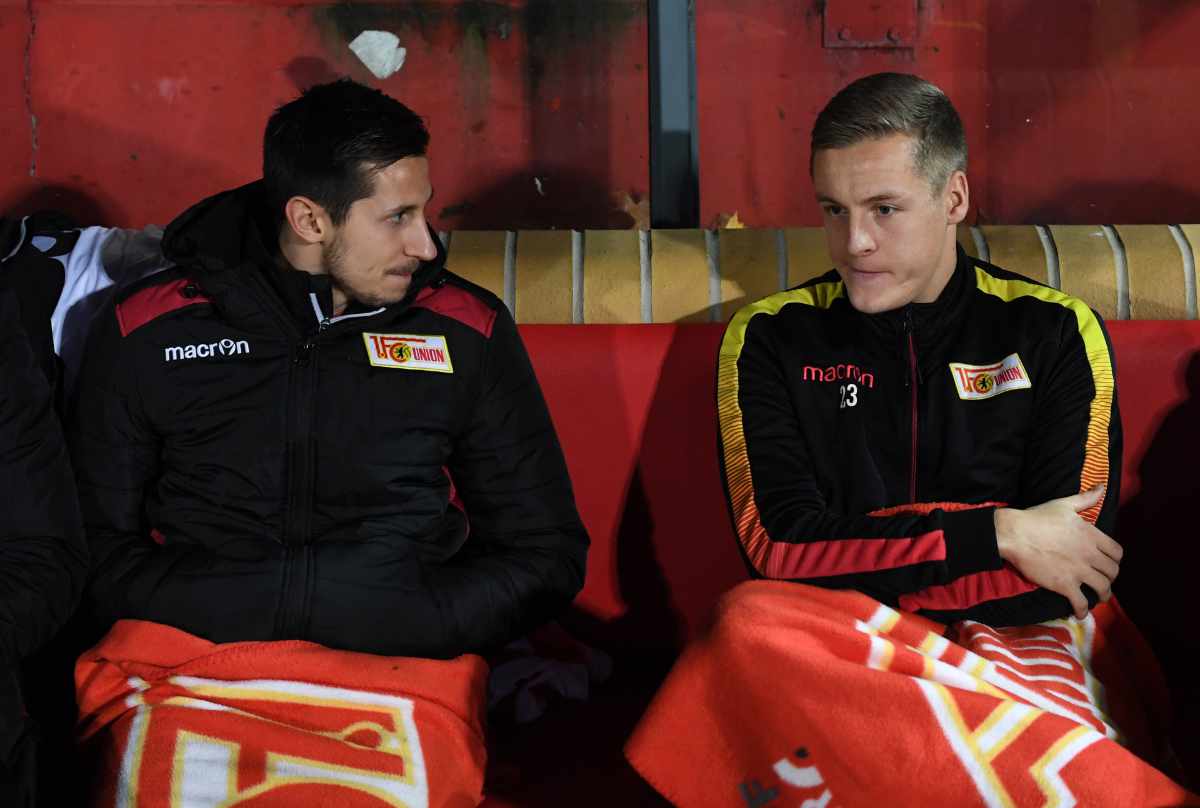 These things happen in changing rooms across the world every day, every week. The late, great former England manager Sir Bobby Robson once instigated a fist fight with two senior players during his early days at Ipswich Town. He had called them out, they were a malignant influence, and he needed to assert his dominance over his team, he had needed to make a stand. He was little but landed punches on both of them. He also knew which of his battles to pick. Robson won his. Keller didn't.
Stevie sat on the bench the next week against Darmstadt and then again against Bochum. After Keller's sacking the reports got wilder and wilder, the somewhat mundane truth that he had lost his control over much of the squad was lost amongst the branches of the rumour filled woods.
Stevie leans in while telling this story, as if someone else might be listening, but mostly because it doesn't suit his mood to start going back over old ground. He says that when he arrived at Schalke Keller had been in touch, offering any help necessary, or advice about fitting into life at a club that he knew very well. He says it's water under the bridge. It's just one of those things. It's football.
"I'll say if I don't like someone. I'm honest when I say I've got nothing against him, and I hope he's at peace with it, too."
The only other time he leaned in towards me in a similar manner was when he alighted upon another man endangering his position on the football pitch, his current coach.
— 3 —
The third time I saw Steven Skrzybski was in a little boozer on Tucholskystraße, a couple of months after Jens Keller's surprising sacking, though I still knew nothing of how their relations had so catastrophically broken down.
I'd not particularly chosen it because of the name of the street, but was happy with its providence nonetheless. For Kurt Tucholsky was a man who understood and described this city and her people better than anyone ever has, before or since, doing it in their voice, too. And it did make a certain amount of sense to meet there on Tucholskystraße, in a bar that occupied the space of what had once been a bookshop, that had been squatted in the early nineties, but had managed to chart a course towards a certain cleanliness and respectability in a similar manner to what happens to too many anarchists when they end up settled in a day job.
But, unlike the Friedrichshain cafe, it wasn't trying too hard. I used to drink there a lot, they poured gin and tonics without a care for legalised weights and measures. They poured gin like Princess Margaret would have poured gin on her honeymoon.
He wore a smart jumper over jeans, now, and spoke with more eye contact and expanded upon points before I had the chance to ask him to, dropping in English words when he thought I was flailing. His haircut was sharper, his posture more relaxed, his sentences still longer.
I had bought him a copy of Tucholsky's collected works from the bookshop at Alexanderplatz on the way to meeting him. He said he already knew Tucholsky, but would look forward to reading some more, and said thank you a couple more times, somewhat unnecessarily.
I'd inscribed it to him in English:
"If you go, this is to show you why you will always come back, and if you stay this will remind you why."
This was just a few weeks before the end of the season and I was pretty sure he would soon be on his way. Despite the lack of an official announcement, it felt like an inevitability, a fait accompli. Rumours were flying around that he'd had contact from Stuttgart already – or was it HSV, or maybe even the club it was said he already supported, Schalke? – but he said he'd paid them no notice.
He'd let us know what he was to do when he made his mind up.
I didn't believe him at the time. I thought he'd go to England, it seemed impossible for him not to know, but later, he would at least stick to his story, telling me, when he had no real reason for artifice any more, that this was true. That he really did have no idea what he was going to do, other than that he would stay in Berlin in the case of a relegation back to the 3.Liga.
We spent a lot of time talking about Berlin, he seemed fascinated by stories of Mitte in that weird time after the fall of the wall when streets like Tucholskystrasse were at the cultural centre of the Earth. It was his city, but parts of it could have been the dark side of the moon.
He was proud, almost boastful, like he was talking about a favoured nephew's successes, when he said that a friend of his had said, "Berlin was like New York was ten years ago." He romanticises this town as much as any newcomer here ever did.
He has never showed the slightest hint of worrying that it would sell itself out that I sometimes still do.
So it is telling that two of the people at Union he is still closest to are both Berliners, born and bred, Hofschneider and Christoph Lenz. They were both at his wedding. They are often blunt and darkly funny and true to themselves and their friends. And they don't bullshit anyone, they can't abide a hypocrite. And when they are together they speak in that Tucholsky-esque barked accent and with a dialect that he clearly softens, shaves those spiky edges off, to speak to me.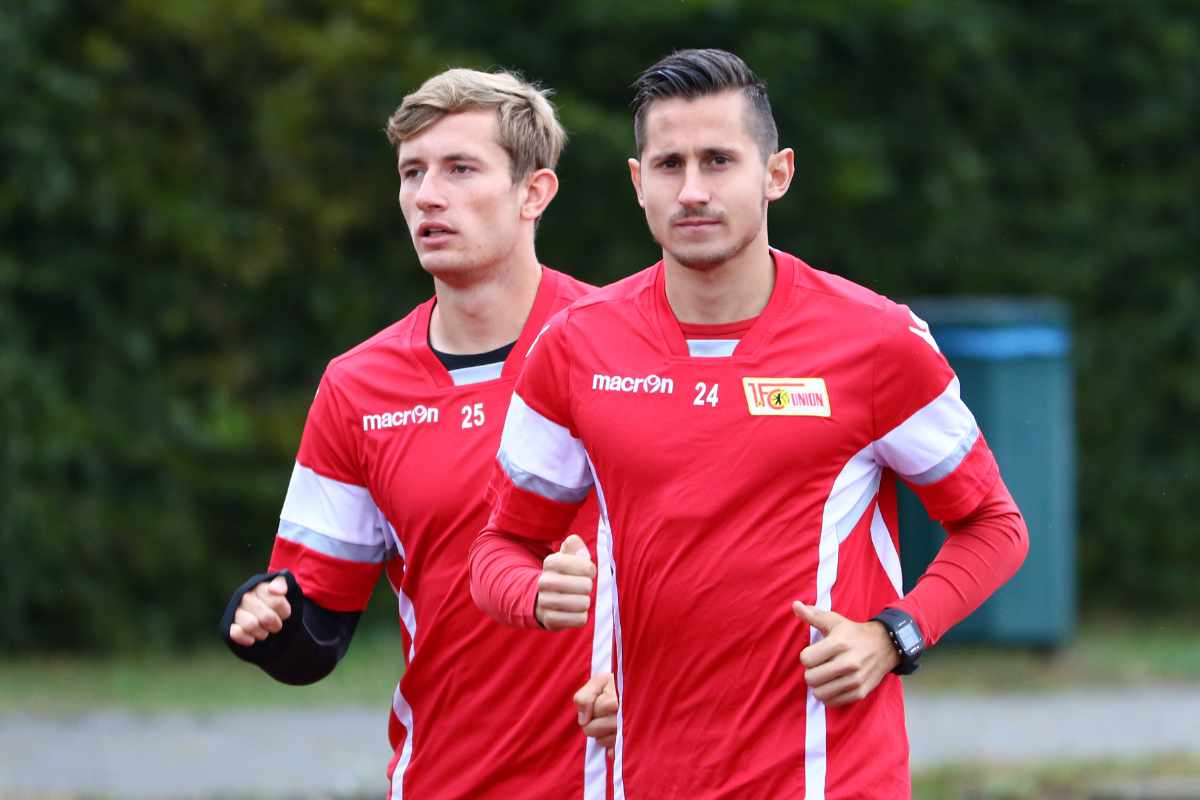 Hofschneider was put in permanent charge of the team in the wake of Keller's exit. It was, with hindsight, misguided. He was unsuited to the pressure, he was too close to the club when they needed someone who could remove himself from the passion that seeps into every corner of it like damp, rising up into a cavity wall. His eyes, that usually twinkled through his heavy slits of eyelids, started to grow tired looking. His jokes in the press conferences grew more droll and weary. He had more allies, in the squad and in the press and certainly off the pitch, than Keller (though Keller had always been more than generous with his time to me,) but he struggled to make the difference.
Union would stay up in the end, but it took until the last game to be certain, they came pretty close to the unthinkable. But then, with all those fears allayed, and with under a minute to go until the end of the season they were 2-1 up against an obdurate and ugly Bochum side who looked to a man like they would rather be anywhere than the Alte Försterei, having to run around like dogs. The pitch was half bathed in brutal sunshine and half in a deep dark shadow cast by the Gegengerade.
The two sides went through the motions, winding down the clock. Their minds started to drift towards holidays in the sun. Towards late nights and later mornings, and the prospects of a new start.
Stevie, though, hadn't yet given up.
Unmarked, suddenly alone, he burst through a gap as Grischa Prömel's header from the half-way line cut the Bochum defence in two. They were as if cleaved apart, all the structure and discipline and solidity that a professional football team's back four should take for granted had gone in that blink of an eye. He took one, two, three touches as he bore down on goal unerringly, drifting out to his left, out from the darkness and into that glorious sunlight, before managing to drag the ball out from beneath his feet with the fourth.
Bochum's keeper, Marcel Reimann, came out of his box, the last man able to stop the last significant act of a game long rendered meaningless. Apart from this.
Skrzybski rounded Riemann with that fourth touch. His finish, rolling the ball into the unguarded net with his fifth, was easy.
There had been times that year when having scored he had picked the ball out of the goal immediately to get back on with things, to set the tone for a team who had been all too lacking in leaders, but not this time. Not today. He allowed himself to take it all in. He hared over to the booming Waldseite behind the goal as the volume reached unimaginable decibels, and was embraced by a luminous orange clad steward who should really have been focussing on crowd control, but who couldn't escape his part in this moment.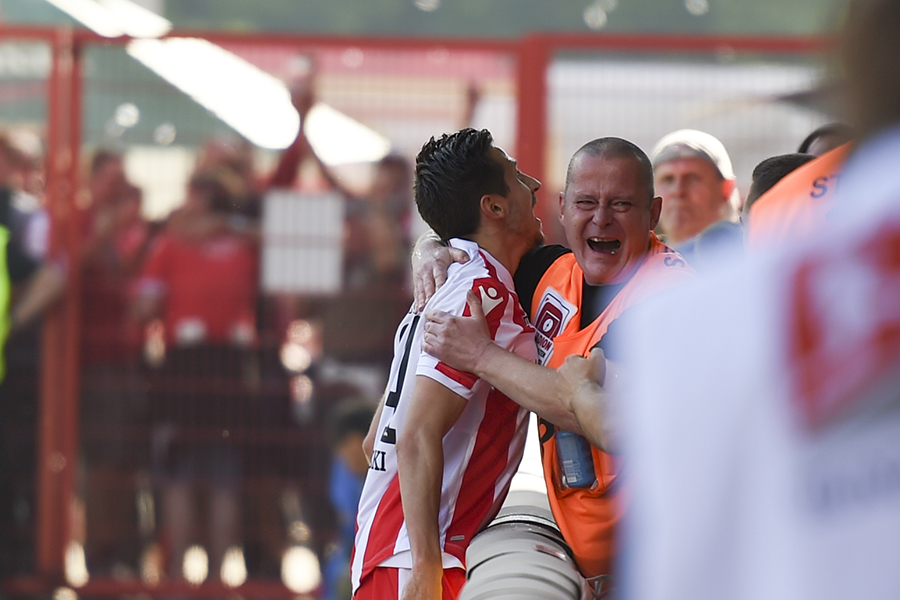 Skrzybski screamed and he cheered and he drunk it all in. And his team-mates stared enviously because they knew that few of them scoring at this point would have ever had a similar effect. The referee came over, he told him to get on with it. The game wasn't over yet, but he was enjoying himself, Skrzybski. He and his fellow striker, Hedlund, ambled back placidly like they had all the time in the world. The ball was re-spotted and the final few seconds of the game were played out in a trance.
On hearing the final whistle he collapsed onto his back, his eyes shut, his knees up, his arms out, gasping for air, choking back tears, letting it all wash over him for a second. He dragged himself up and ran to the main stand, to give a shirt to someone in the crowd. But there was someone in the way. Hofi. Steven Skrzybski and Andre Hofschneider hugged.
They had known each other for almost half of Stevie's life so far.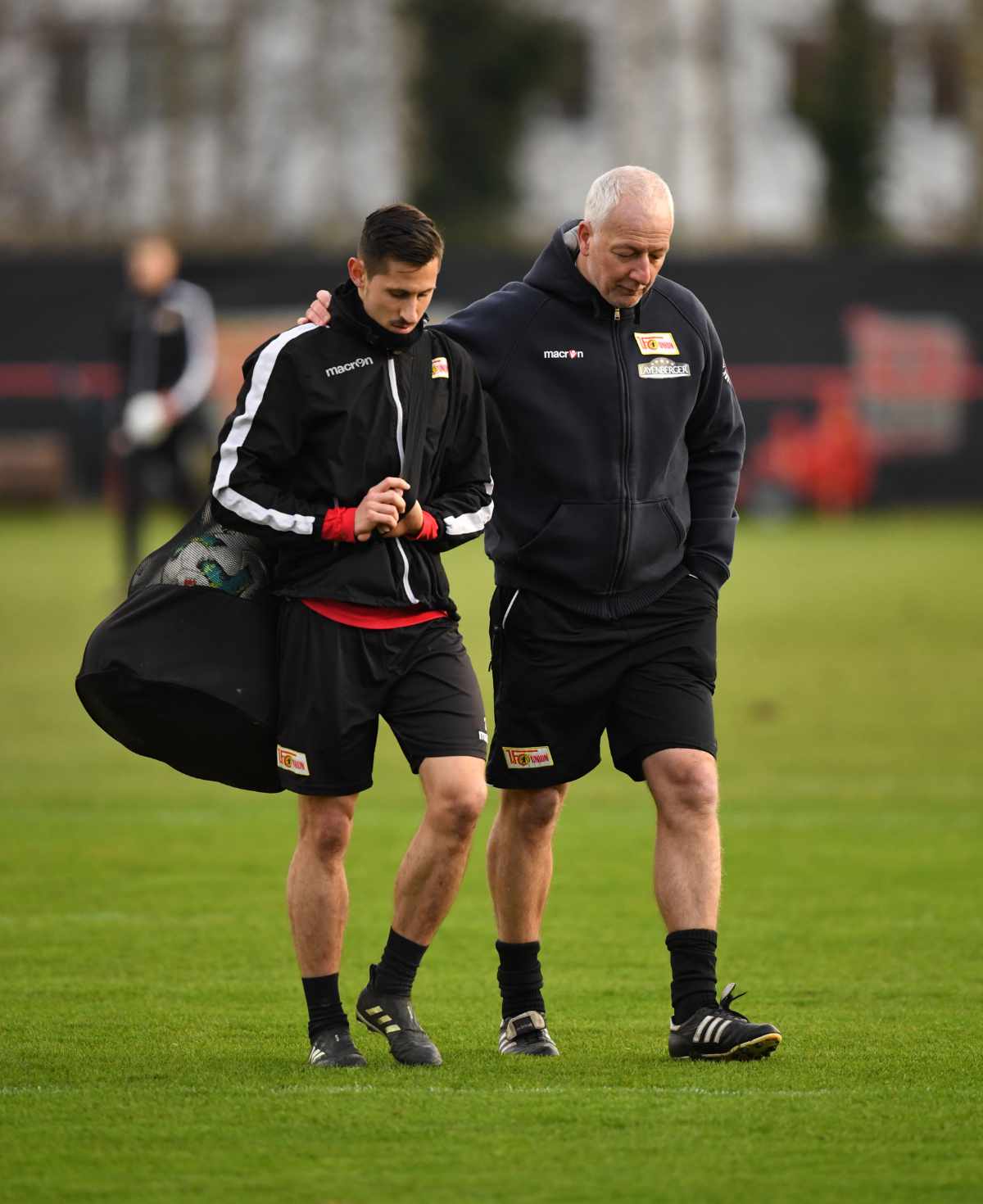 "I don't think I'd have ever made it as a professional at Union without him, he always supported me. I'd compare him like a father. He was very strict sometimes, but it was about the potential he saw in me. He'd said a long time ago that I was a Bundesliga player, but it was about bringing the performances out of me."
Stevie had always wanted to give him a decent send-off and now he had done so. They had avoided relegation, and all of the shit heaped onto the shoulders of the coach was to be lifted, even if his dreams had still taken a sizeable hit. Hofi hugged him tenderly, he whispered into his ear, he ruffled his hair, and they held onto each other for a moment longer still. It must have been a full minute that they were there in that embrace. Stevie doesn't remember exactly what they said, but it barely matters now anyway.
Hofi would be off, to move into the background again, leaving centre stage as quietly as he had arrived. Urs Fischer would replace him within a few weeks.
Stevie started the slow trudge over to join the rest of his team-mates. He loitered slightly at the back of the crowd as they made their way around the stadium, saluting the stands, taking in the applause. He clapped and shook his arms, but he didn't join in the pogo-ing as the crowd sung Zombie Nation's "Kernkraft 400" for the last time. A song, fittingly, with no words, for there were none that could do this justice. Tellingly it was Gogia and Hedlund he was closest to out there.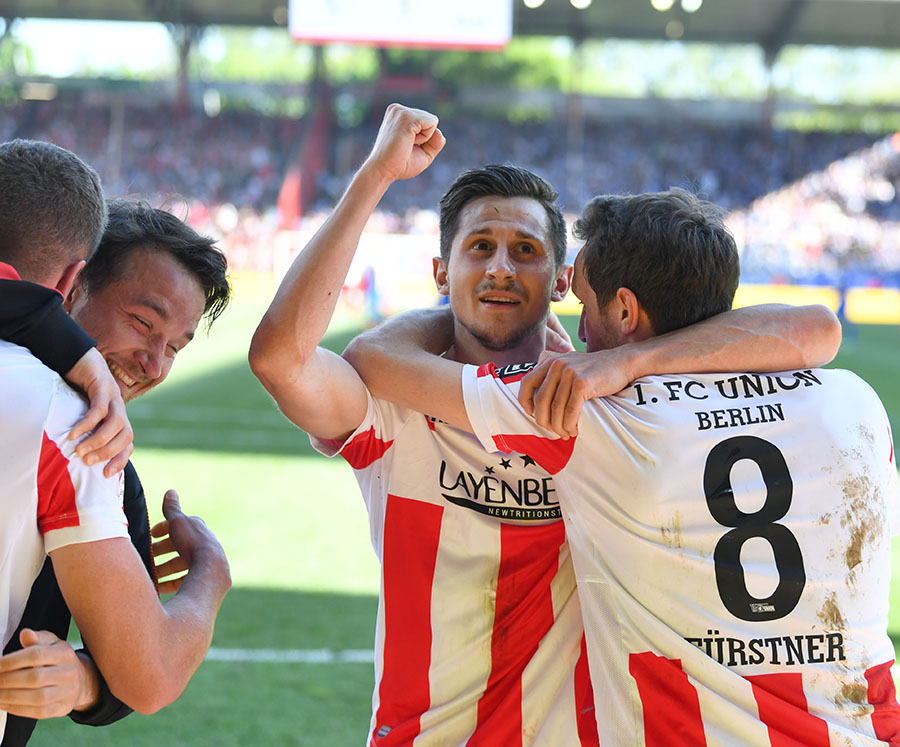 He smiled and he said thank you under his breath and then he was gone.
Even if he didn't know it would certainly be as such, it was a hell of a way to say goodbye.
"I'd always said that if i was to leave Union, then it would only be for Schalke."
There is a certain irony that he would find himself at the side who beat Union in the cup final in 2001. The side he supported at first out of sympathy.
And the side who had grown as mighty as they now are through the efforts of a generation of players whose roots in mid-Silesia, like Skrzybski's, were betrayed by their names. Tibulski, Kuzorra, Kalwitzki and the best of them all, so they say, a winger / striker called Fritz Szepan.
— 4 —
Within three weeks of Bochum an offer had come, and then things moved fast. He left it up to his agents to negotiate the deal. He went on holiday and returned to play for a different club, to live in a different city, for the first time in his life.
There are similarities between Schalke and Union, he says. They've got dirt under their fingernails. They are plain speaking, they let you know when they love you, but will also growl at you when they are pissed off. But life at Union is a different beast. Here he could fly under the radar, he could go into town, he could go out for dinner. "There, they are crazy about football, and there is nowhere you can go without the press."
Keller had once told me the same thing. They were voracious. He said it was impossible at times.
He also had a lot to deal with, just in terms of playing in a Bundesliga, stocked to the gills with faster, stronger players, whose sheer technical ability could blow your mind. You notice the difference, he says. It's fucking hard. Let alone getting bossed around like the runt of the litter by a vengeful Manchester City, pissed off at almost losing the first game, who made their 7-0 Champions League win look like they were being generous to their guests. No-one spoke in the Schalke changing room after that mauling. It was not so much a footballing lesson, but one in humility.
Also, though the dynamics are incomparable, the Alte Försterei pales in terms of sheer volume next to the Veltins Arena. There's 22,000 people screaming at Union. At Schalke there are three times as many, and, outside of the Nordkurve, they will also turn on the players in a way that is strictly forbidden here, that's against Boone's law. They are there to be entertained, and to win, reared on Granddad's stories of the famous kreisel, the spinning top, and all its inherent delusions of grandeur.
His waking hours were spent working, his dreams were haunted by incarnations of it all.
And on top of thisl he had another purpose, the added pressure of fulfilling his Dad's hopes. "This was my father's dream. All he wanted was to see me succeed. I'm doing it all for him."
His debut came in the fabled, terrifying, Ali Sami Yen stadium against Galatasaray. I've seen Gala fans lighting flares indoors in the Max Schmeling hall for an oldies five-a-side tournament. One can only imagine the Richter scale bothering bedlam of a Champions League game there. Then his top flight debut in the league came against the same side his old mate Lenz would make his own against a year later, a team who play in the largest stadium in Leipzig.
Anja was there, of course, nervous as all hell for her man, knowing what this meant. He'd never even dared to think that this would all be possible. She cried, and though he never said it I presume he will have done so as well.
She should maybe have left there and then. He didn't play very well. No-one did. It ended 0-0.
He'd been bought to do a job, and as soon as he got his chance he started doing it. He had always wanted to have the responsibility as the central striker, as a number nine, and scored two simply taken, strikers' goals, smart and sharp and unflashy and effective in a man of the match performance in the 5-2 decimation of Nürnberg. Stevie was taken off with a couple of minutes to go to a standing ovation.
He opened the scoring a couple of weeks later against Stuttgart, too, having started the move with a simple, nudged ball out left, gesturing wildly to his man to get it further out, and ghosting into space towards the penalty box to finish. It was two days before Christmas, and took Schalke up to 13th.
Meanwhile Fischer was quietly instigating a revolution in Berlin.
Stevie was back at the Alte Försterei for the very first time on the 28th of May, 2019. He'd been invited by Dirk Zingler to his box, to sit through the gruelling, tense, 90 plus minutes of the second leg of the Relegation play-off against Stuttgart. I saw Hofschneider on his way into the stadium, looking utterly relaxed in a way he didn't seem at all during the last days of his reign as coach, smiling through those thin slits of his eyes. He'd lost ten years, and wore a brand new leather jacket that was just too fresh off the shelves to be cool in any meaningful way.
Stevie said he was relaxed, but Hofschneider was the only person I saw there who didn't seem to be absolutely shitting himself.
A year and a bit later it still seems impossible to sum up the emotions that 20,000 or something people went through that night. The pensive fear before kick off. The slowness of the ticking of the clock. That strange moment with a quarter of an hour to go when, not only were everyone's beer glasses empty, but that nobody was even bothering to go the short distance to get them refilled. There was too much riding on the game. There was the sense now that the world was watching, that this would go down in history in a way that even Ronny Nikol's penalty hadn't.
But, just like when Nikol scored against Gladbach, Stevie wasn't able to be a part of it. He was just a fan, a passive observer, a nervous mess with his friends on the pitch and everyone who used to cheer his name louder than almost anyone else's oblivious to his presence. He didn't make himself seen, though he would join in the party that night and long into the morning hours.
He says he didn't get jealous. That he was just happy for the club and for all the Unioner, and particularly for the likes of Micha Parensen, who he'd known since his adolescence, who had faced people saying that he'd never play in the Bundesliga his whole career.
Micha, he says, with clear admiration, is like a "pillar, standing up in the wind."
Stevie says that he doesn't regret his decision to leave Union for Schalke. He said he had to do it, and he'd do it a hundred times over again. But if ever he did feel it was a mistake then it will have been on that night, as he watched the flares burn, and saw the swarms of fans on the pitch, lifting their heroes up towards heaven.
He had high hopes for the 2019/20 season, but David Wagner would take over at Schalke, and he didn't seem to rate Skrzybski as a player. Or at least he didn't see a way he could ever fit into his ideas for the club. He told him that he wasn't going to be considered in his plans.
Skrzybski was stung. And when he told me this in July, still was, visibly. Even Keller had given him his reasons when they fell out, but Wagner, according to him at least, never said a word. Just that that was it.
It was ruthless, like Michael Corleone sacking Tom Hagen in the Godfather.
"You're out, Tom."
All he had ever done was play football, and to take that away from him was like taking Dizzy Gillespie's trumpet away, like forcing Usain Bolt to sit still. He turned out for the under 23's, just like he'd had to do when he was a kid at Union, struggling to break into Uwe Neuhaus's team, flitting between the second division and the fourth, waiting, working, desperate just to be able to have the chance to prove what his ego told him he could do better than anyone else there, just so he could play football. Just so he could maybe get another chance.
So, finally, when the offer of a deal to join Fortuna until the end of the season became apparent, there was no question as to whether he should take it. He always needed to feel needed. He always had to have someone at his back, so he could just get on with the business of playing. He jumped at the chance. It would mean he and Anja wouldn't have to move house again, and he would, at least, be able to come back to the Alte Försterei as player on the last day of the season.
It wasn't what he'd wanted, it wasn't the plan, but it could be worse.
— 5 —
All of this had been going on while Anja was pregnant. Their daughter was born in December. She smiles a lot, though he says she sleeps less than she smiles, and has beautiful dark eyes as big as flying saucers.
It's hard enough when everything you've done so far has been on a straight path, the destination clear as day. Let alone when everything changes, when your father's and your own dreams can get discarded so simply, so easily, just like that, because a coach doesn't think you're any good. But, as he always said, this is the business he chose. In football the margins can be infinitesimally small at times.
Stevie is 27 now, he's old enough to be a father, of course, but you never really feel old enough. Especially when you hold something so tender in your arms, so fragile, and so utterly reliant on you, and you've got no-one to rely apart from your partner. When both your families are still in the town you grew up in.
"It was weird, leaving my home," he said with great understatement. And it was hard for him, but it was, he says, harder for Anja. He at least had the comforts of routine, of training, of the daily life with his teammates, of living his dreams, even later as his career seemed to be circling out of his control. Anja, meanwhile, knew barely anybody, she had no connection or affinity to the town, at least at first. She appeared at his side at one point during our last interview. She said, her hand resting warmly on his shoulder, that it's fine, that a football career is short, and that they'll all go wherever it is they need to go, together.
But it's hard being married to a footballer. They get ignored while their men are feted, pampered, held up as Gods amongst men. She has to deal with his worries as well as her own.
And then a killer virus swept across Europe. Despite the waste it laid to people's lives around the world, the thousands dead, the millions unemployed, the chaos and uncertainty, for some, it came at just the right time. He'd been injured anyway.
"It was the best thing that could have happened to me," he said, having made the obvious caveat that he was one of the lucky ones. As a footballer he was tested more than almost anyone else in the country, he was cosseted, protected. They spent lockdown together, the three of them. It gave them time to assess what was really important.
Almost two years passed between the third and the fourth time I met Stevie Skrzybski, this time in the reception to the palatial Soho House hotel, also in Mitte, but somehow in a different universe. A large circular chandelier hung with a monied certitude above my head. Businessmen in pink polo shirts talked loudly about whatever it is that businessmen talk about. The walls were a mixture of buffered brass and polished concrete, with open steel piping snaking across the ceiling.
A guy wearing dirty shoes had come in and slumped into one of the luxurious and spotless sofas and was immediately asked to leave by a polite but determined member of staff.
Two large, and intentionally poorly rendered graffiti pieces on plywood were fixed to the wall that obviously cost a fortune, but were really there to show how urban and gritty and true to the spirit of the city the five star hotel really was. One was of a shark, and my cynical eyes kept flicking between it and the businessmen.
It was desperate to convince the world that it was cool, despite the prices. It was, you know, fitting to the new Berlin.
I'd been worried about this interview. I hoped that he wasn't too down, that everything wasn't collapsing, that the worries for his family and his job weren't overwhelming him.
There is a graph on Transfermarkt.de detailing his worth, his financial value. It is hard reading at the best of times, when someone you know is reduced down to, of all things, euros and cents, when his value as a father or a husband or a son isn't taken into account. Stevie's had gradual rise, a tough climb, but not an impossible one, up to a peak that suddenly plummeted, no trees growing there, just the occasional eagle, soaring off in a way that a man never could.
I couldn't have been more wrong.
Stevie appeared at the top of a circular staircase, a vision all in white – white, collared shirt open to three buttons below the neck, white trousers, rolled up to above the ankles, and expensive looking white trainers whose gold livery on the side was the only outward hint of a brand name, though I couldn't make it out. Shit, he looked like Cab Calloway at the end of the Blues Brothers, he was just lacking an ivory cane. He looked great, and had a big smile on his face.
His wife and his seven month old baby were upstairs asleep. He swept down those stairs quickly and greeted me and asked warmly after me. Long gone was the shy and slightly uncertain young man of only a couple of years before. As former East Berlin – and this was the apotheosis of what had happened to it, here at Soho House – had changed, so had he.
"You've come a long way," I said when we sat down. He smiled with a hint of sheepishness at the opulence of his surroundings – it was six quid for a bottle of water – but there was nothing for it, he couldn't pretend he didn't like it here. He'd worked hard for this. "Yeah," he said. "Yeah, i suppose I have."
But so have Union. Since that astonishing night last May things have never been the same. The world has been watching. The earthquake created as the Unioner took to the pitch after the scoreless draw against Stuttgart carried on over into their first ever Bundesliga season as aftershocks. The Unioner were really, bowel-shakingly, jarringly loud, and it made an impression. Everyone said that they had been a breath of fresh air for the Bundesliga, and it is also why every group of ultras wanted to light their flares up at the Alte Försterei.
Some of them even looked almost jealous. Like they wanted to join in.
And on the pitch, too, they were a revelation. The wins against Dortmund and Gladbach at home, against Frankfurt and Bremen away, were a lesson in organisation, in stability, but also one about taking your chances when they come. Developing a good spine and seizing the moment when you can. The win at home against Hertha was edgy and ugly as all hell, and unblinkingly compelling. Sebastian Andersson had risen to the occasion, Rafal Gikiewicz had carried his momentum on from last year, as had Marvin Friedrich. Marius Bulter and Kevin Schlotterbeck, Christian Gentner and Neven Subotic brought young hearts and wise heads.
Stevie's old sparring partner on the right, the player he had a telepathic connection with, the captain, Christopher Trimmel had developed somehow into a man who possessed one of the most dangerous set piece deliveries in the land, and there wasn't a dry eye in the house when, after more than a decade at Union, Micha Parensen made his Bundesliga debut in the 2-0 win against Freiburg.
Coming 11th in the Bundesliga was a really quite remarkable achievement, even more so than getting there in the first place. And in years to come when we look back on the table it will be easy to forget the bitter taste that accompanied this triumph.
But it will still be there, because no matter the high points, the virus robbed the fans of their part in it.
They weren't allowed to see it come to its natural conclusion. And no library recording of a crowd playing in the background of a SKY TV feed could ever do justice to the noise the Unioner were making in their stadium. You'd need a hundred orchestras, a pack of dogs and a volcano spewing magma straight out of the belly of the earth to come close.
It was a fucking shame.
And as the last game of the season played itself out, I thought about what was going through Stevie's mind. It was supposed to be triumphant, the prodigal son's return. But what should have been a bang was reduced to a whimper.
There's an old story about Kenny Dalglish returning to Anfield as the Blackburn manager for the first time and going into the wrong changing room. Habits are hard to break, and it seems unfair that Stevie wasn't able to make a similar mistake, that he had to come out of a hermetically closed bubble into a clinically sterile Alte Försterei, entering onto a pitch to be greeted by the sound only of nothingness. Not a single Fußballgott. Not a murmur. Just the shouting of the coaches and the peeping of the referee's whistle.
"It's weird. For the clubs there is more to football than the fans, of course, but as a sportsman I play for them."
I asked him how the Alte Försterei was, empty?
"It was shit. It was something that I can't be bothered with. It and the fans belong together like Christmas and December."
I wanted to know if he still loved football now he had been sprayed like the last drop of WD40 into the cogs of this stinking business. All that time ago he'd said he was "lucky enough to have made my job my hobby," and I hoped it was still his hobby and not just become another job, like tennis was for John McEnroe or acting was for Robert Mitchum or singing was for Leonard Cohen. Just another old habit and a means of paying the bills.
I hoped his enthusiasm for the game hasn't yet dimmed.
"Leaving was difficult, and that there are things I haven't achieved is a big disappointment. And, for maybe a couple of days, I didn't want anything more to do with football, but despite all that, the joy is still there. Otherwise I'd stop."
He says he'd love to come home one day, Anja would too. I get the impression that since he left he now treasures Berlin more than ever. As William Bell once sung, a long time ago, with great and simple wisdom,
"You don't miss your water, til your well runs dry."
But this was while he still felt frozen out at Schalke. He's now got a chance to fight his way back in there, like the plan always was, but he said then he'd also be open to a return here on the pitch. Though not just there to make up the numbers, a token gesture of sympathy there to remind the fans of what once was, and himself of what could have been.
"I wouldn't come back as Ritter Keule."
Though I think the suit would be too big for him anyway.
The second time we met we had talked about Trimmel. It was around the time that Keller had signed Atsuto Uschida, and the left back position was his for the taking.
"I like Trimmi," he said. "We don't need to talk too much when we are playing, but this stuff belongs to the business."
"So he doesn't need our sympathy?" I asked.
Stevie laughed at that. "No. Definitely not."
No, Stevie Skrzybski doesn't need our sympathy either. As he wouldn't want it. The last game of Union's astonishing first ever season in the Bundesliga would always have been much more about the departure of Micha Parensen, and rightly so.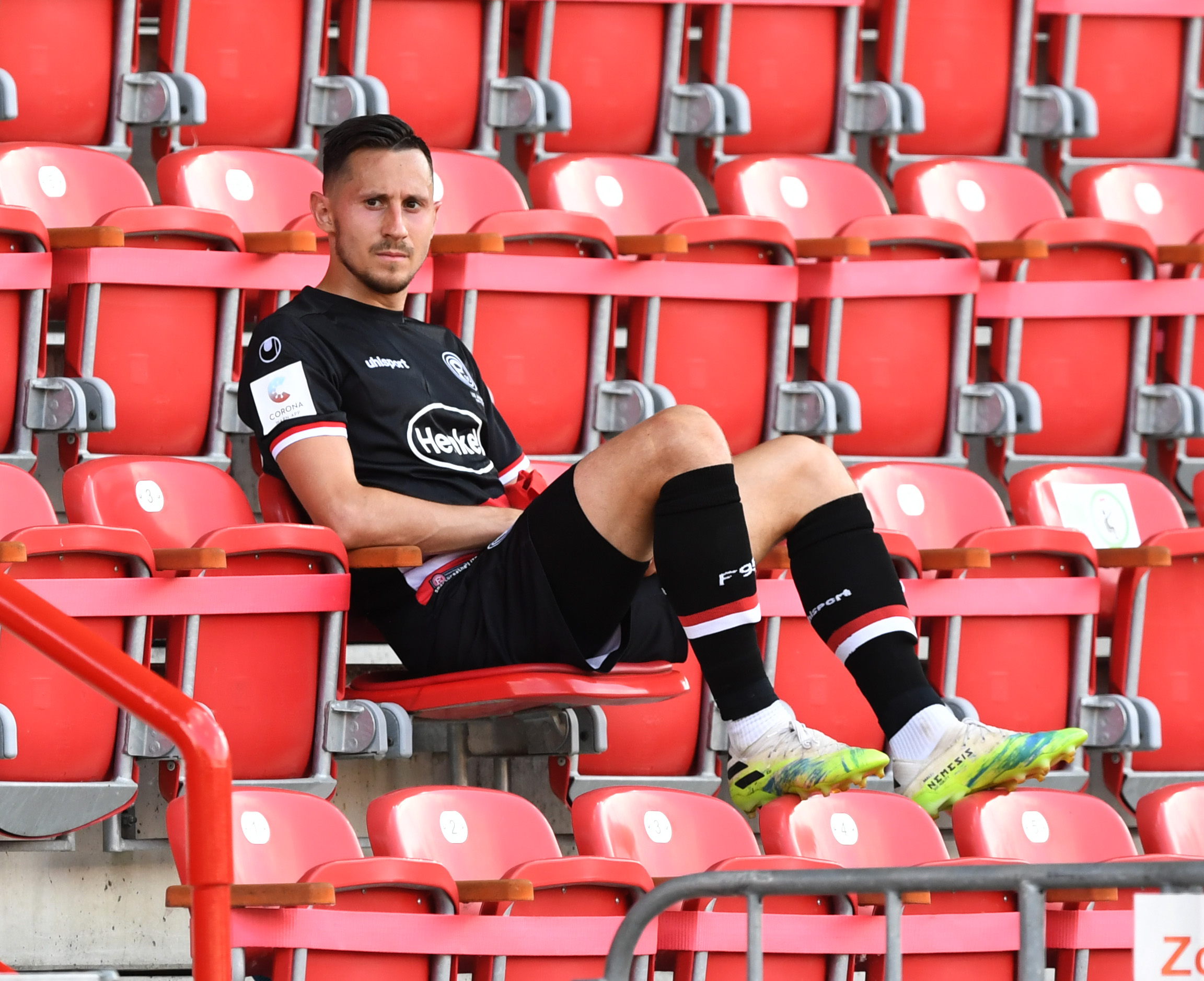 But, no matter what happens for him and his career – and Steven Skrzybski will be alright – I can't help but think that he deserved better on his return, that we all did, than having his temporary side get relegated in an empty stadium he could always call home.