Simon Hedlund smiles, stretches his left arm out along the back of the sofa and crosses his legs broadly. He sinks back into it like it is quicksand. Sebastian Andersson is sat next to him, his back perceptibly straighter, leaning slightly forward, his knees together. It's a small sofa, their legs don't touch but they are close. He's in his civvies, Hedlund in his tracksuit. They keep smiling. They may not be, of course, but they look relaxed and happy and like they are having fun. "It's English weather," says Hedlund, which it is. There is drizzle in the air, and it made things a damn sight more pleasant during the training session they've just finished.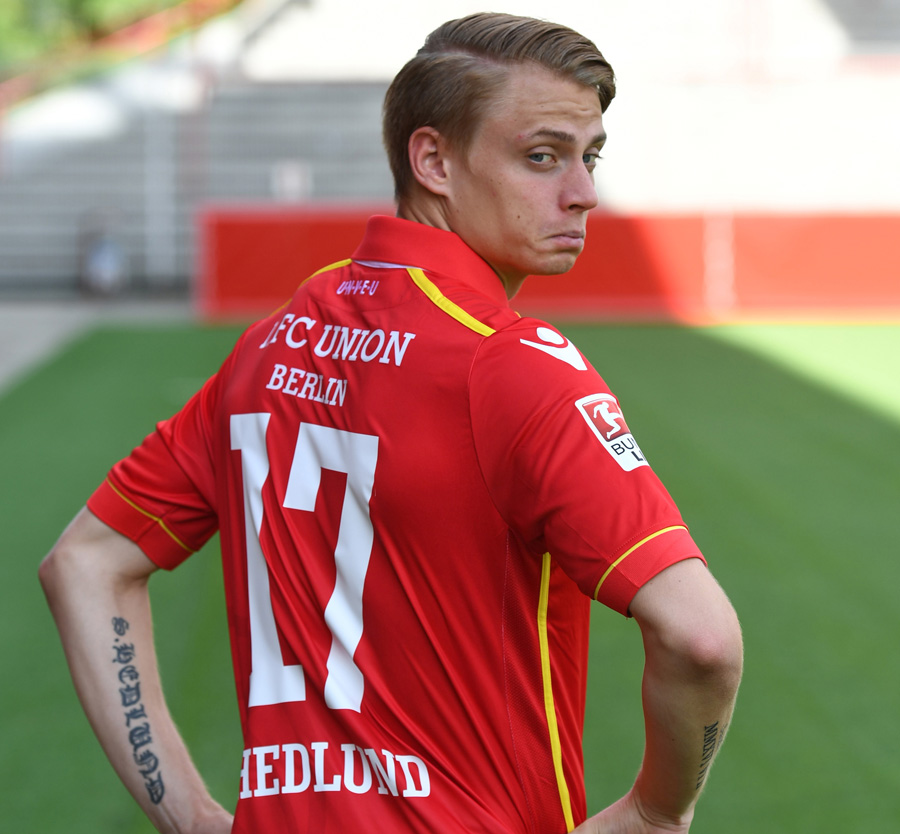 Of the two, Andersson looks more grown up, somehow, which he is, by two years. And the fact he's a father of two shows in the bags under his eyes and the desert dryness of his jokes. He's funnier than Hedlund, though Hedlund is cheekier and, once he gets warmed up, talks more.
They have known each other for years, at least as opponents. They clearly like each other, laugh at each others jokes, can happily take the piss out of each other without it ever feeling forced or awkward, and are absolutely at ease in each others company. They watched Sweden lose to England in the World Cup quarter final together at the Brandenburg Gate until the packs of Englishmen puffing out their chests like bullfrogs on the prowl for a mate, and their endlessly croaked chorus of "Football's coming home" (as well as the second English goal taking the wind out of the sails of both of them) got too much.
But they don't get to hang out together. Not yet anyway. Andersson, for starters, has only just arrived here in Berlin. Their wives haven't even yet met, and they are waiting for that. To get the families together.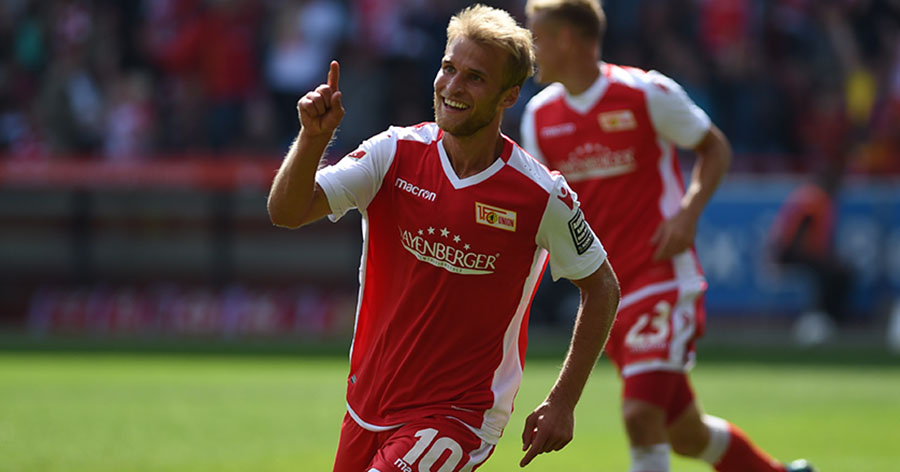 They are also happy today, because they have both got goals under their belts. A couple of weeks before we met, during the cup game in Jena, the score was 2-2, and the first half was already long into added time when Union were given a penalty. Andersson had already scored his first for Union with his equaliser against Köln the previous weekend, and had opened the scoring here with a header so simple that it would have been harder to miss than score (though, as all strikers will tell you, this is the most dangerous chance of all). So Simon asked Sebastian if he could take it. He puts on a joking, pleading, whiningly desperate voice as he repeats the conversation.
"But Sebastian. May I pleeeease take the penalty?"
"And then he let me…" Hedlund pauses, adding weight to the inevitable punchline. "…after a while." Andersson dead-pans back when asked if this has happened to him before. "No, normally it's me asking to have the penalty," though it's probably not. Andersson has never suffered with a lack of goals.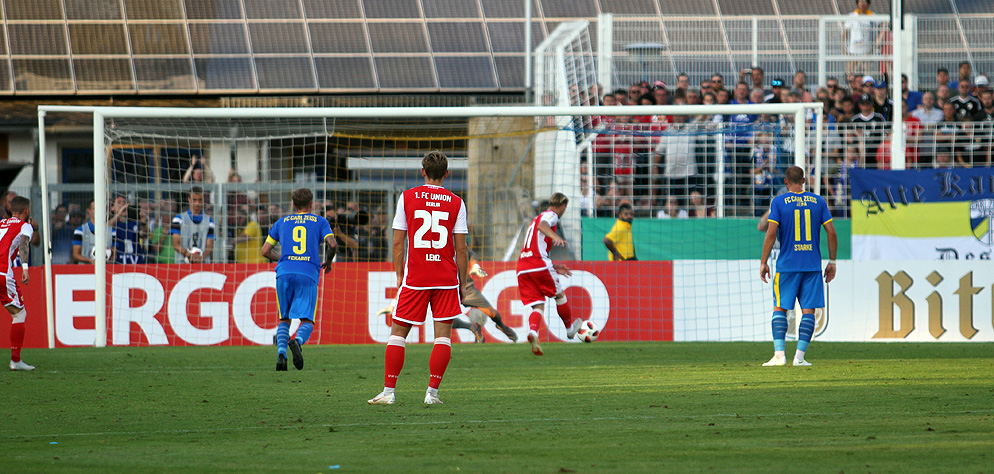 But this hadn't been the first time in this situation for Hedlund. Against Karlsruhe a couple of years ago Sebastian Polter gave him the spot kick that should, by all rights, have been his. Hedlund is much slighter than Andersson, and his legs are thinner than Polter's by far. His face is more angelic than most. Maybe it's the paternal instinct he brings out of these big number nines who are used to having to fight all the time for their team-mates anyway. Maybe not. They might have just thought it was best for the team.
And he really wanted the helping hand. He is a superb footballer, a very modern version of a left winger, but he still needed an early goal. For Hedlund knows that for all of his running and harrying, and his endless dragging of opposition defenders out of place to create chances for the likes of Polter or Andersson to put away, he doesn't score enough, himself.
He admits as much without pause, though it clearly hurts to say it.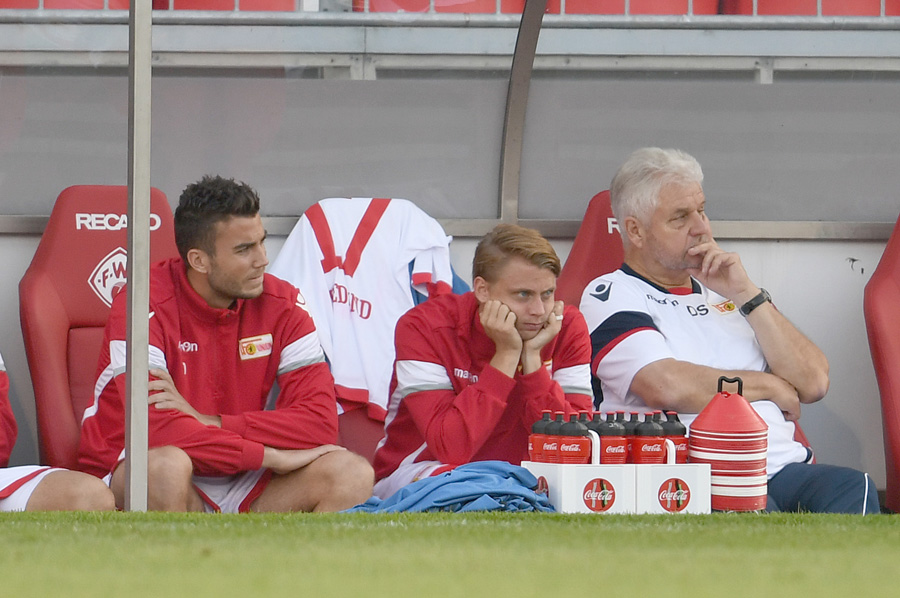 For Simon Hedlund has never scored more in a season than the six he put away for Elfsborg in his last year in Sweden, and under Jens Keller for Union in 2016-17. "It's just something I have to work on," he says, knowing that you can't force these things.
So he genuinely appreciated the favour, both times, for nothing helps scoring more than having already done so. Momentum builds. Confidence grows like bacteria in a Petri dish, tallies increasing like cells dividing under a microscope. Balls roll past goalkeepers when previously they would have rolled into their arms. Hedlund would score his second, and Union's fourth, with twenty minutes left to go against Jena. It is the way of the universe. He scored the week after the Karlsruhe game, against 1860, too.
His penalty against Jena wasn't quite a Panenka, but it also wasn't far off. He waited until the keeper moved just a fraction to his right before hitting it coolly and easily just past him the other way. It looks easy, but would be horrendous if messed up. If the keeper doesn't buy it. "Yeah, I looked at him, and I, you know, try to be as cool as possible, and do it the same as in training."
It's harder when you are under pressure though, from the crowd and your team-mates and, mostly, from yourself.
They faced each other as players for the first time when Djurgårdens IF won away at Elfsborg in 2014/15 in the Swedish top flight, the Allsvenskan. They both played in the corresponding fixtures for the next two seasons, before meeting one final time in Sweden after Andersson had signed for Norrköping. Hedlund is transported back there for a second as soon as he is prompted.
"I scored in that game…", he turns to Andersson. "You remember?" Andersson scratches his head for a second because he remembers the game immediately, and it can't have been. It was current national coach, Janne Andersson's, last game in charge. And it definitely ended 0-0. He doesn't need to check the stats.
"No, I scored, but the referee didn't give it. It went off the post and in. I was right on the line as I shot the ball at the goal. Remember?" Andersson is suddenly there. Hedlund's right. He smiles, for it was a good goal, if a freakish one. Hedlund was that square of goal when he hit it, it was like a corner that went in. But Andersson remembers his young opponents cheek, and he laughs again when Hedlund finishes the story. "I picked up the ball and kicked it straight at the assistant referee." He got a yellow card for the offence.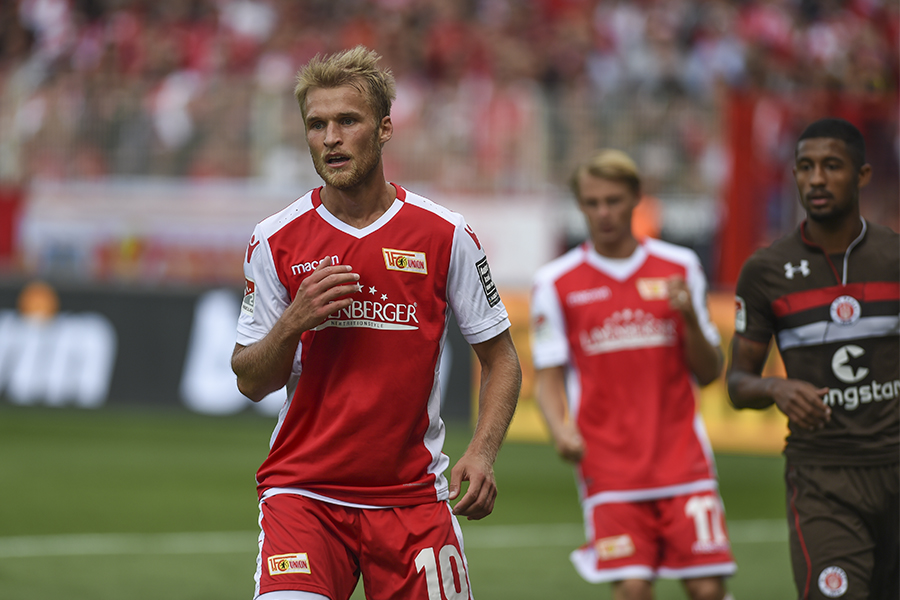 And then, for a second, they are there together, on opposing sides in the story but enjoying the moment. Talking easily about the stuff that has defined their lives. It's not a complicated scene. It's just two guys talking about a game they played against each other, a long time ago in a different country, but it's a nice way to spend the time, and it's nice to be a part of it. They look absolutely at peace, their shoulders are back. They could do this for hours.
It helps, of course, that they are freed from the constraints of trying to communicate in a language that they are still struggling to master. You could throw a ball at either of their feet and they could hold any room in the world, rapt. People would look on, jaws agape at the mastery they have on a pitch the way they would if a lion tamer let himself into your dinner party and started to show off. But often, as soon as they start thinking about what to say in German, they can feel themselves start to clam up. Their confidence can just disappear into the ether. Poof. Just like that.
Andersson says he's better at understanding German, and Hedlund is better at talking it, and thy are probably both better than they let on, but they'll speak in Swedish on the pitch. Or English, if they can hear themselves above the din anyway. It can be useful at times, having a secret language, like when discussing things at a set piece, but they don't do it as a plan.
But when Hedlund asked Andersson for the penalty against Jena, he asked Sebastian in Swedish. It came out so naturally, of course. He is glad he's got that.
Hedlund started German lessons when he arrived at Union at the beginning of the 2016 season, but he hated learning the grammar. The idea of conjugating another verb stuck in his throat like a chicken bone, and he hasn't made it back to school since. Both Hedlund and Andersson decided to learn on the job instead. To keep their ears open and to ask as many questions as possible. Learning through osmosis has to be better than spending your life staring at those endless lists of verbs, of trying to learn the rules and the exceptions to the rules.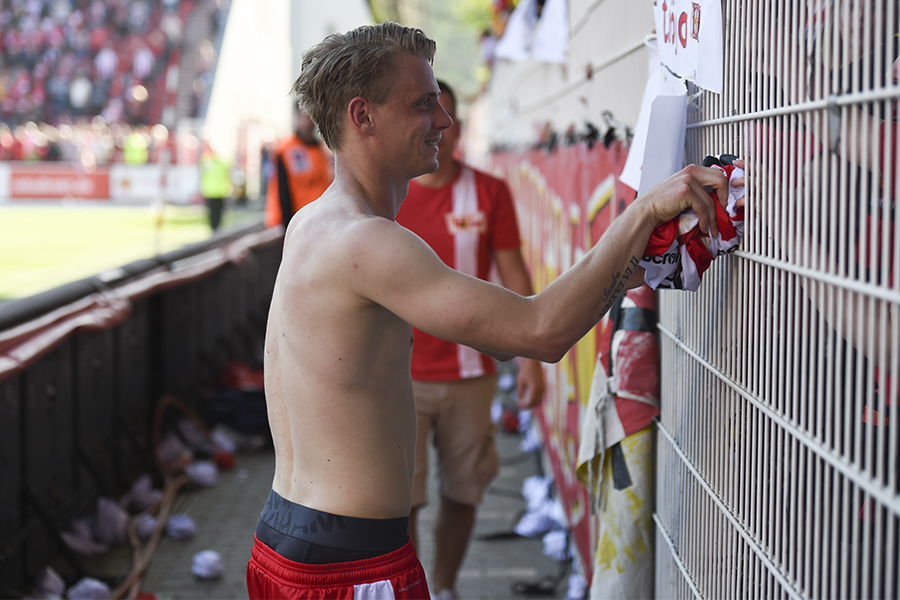 And if you are already straining to do on the pitch what most can't anyway, then how can you drag out the enthusiasm to do it off it, too? When Andersson made his debut for Union in the 1-0 win against Aue, it was nothing if not gruelling. He looked like the loneliest man in the world at times up there, ten feet ahead of a midfield struggling to forge a connection with their striker. Running around in circles. Trying to keep up the struggle. "Yeah, it was hard. But I knew I just had to fight," he grimaces. But at least that was a fight he was used to. It was a fight he knew intimately, naturally, and was one that he could win on his own terms.
Because on the pitch, for that blessed 90 minutes or so, it doesn't matter what language you speak. And at the Alte Försterei you can barely hear each other anyway, they say.
Steven Skrzybski once told me about the link that he and Christopher Trimmel had on the right hand side of the pitch. "It's almost telepathic," he said, describing a relationship honed on the training pitch through endless repetition and finessed on the pitches of the 2.Liga when the chance finally came to express themselves. It didn't matter that both Hedlund and Kristian Pedersen, the left hand side equivalent of Stevie and Trimmi on the right, both spoke Swedish. "To play together and to train together is enough, I think," says Andersson. The words used out there aren't important. "You don't have to think too much. Just be in the game."
But they still have to be able to talk in real life. It is what makes us human, after all. Even Zlatan Ibrahimovic, the man they both unequivocally state as being the greatest Swedish player of all time, alludes to loneliness on arrival in Amsterdam in his autobiography. He went to stay on Maxwell's sofa so he wouldn't be alone. Not that he'd ever really allow himself to call it a moment of weakness. He's too brash for that, but it's there. And Urs Fischer mentioned it in his press conference before the first game of the season, when talking about the signing of Julian Ryerson to bolster the Scandinavian ranks at the club. He didn't know what language it was they were communicating in, he joked in his own heavily inflected German that sounded, too, like he was engaging in a permanent battle to make himself understood.
And he didn't mind either, he said. "As long as they are communicating."
The fact that there is a commonality between the Swedish, Norwegian and Danish languages, means they are certainly better at adapting to new worlds than the British. Ian Rush was once asked about his short time at Juventus, when the Liverpool striker famously (though possibly apocryphally) answered "it was like being in a foreign country."
But we all fall back on stereotypes, even if we know the danger inherent within them. It gives us a sense of order, and it excuses our failings when it comes to learning other languages. It makes the world easier to understand. Andersson is stunned when he hears about the chaos out at Schönefeld. They had both thought that Germany was a land of punctuality and of order.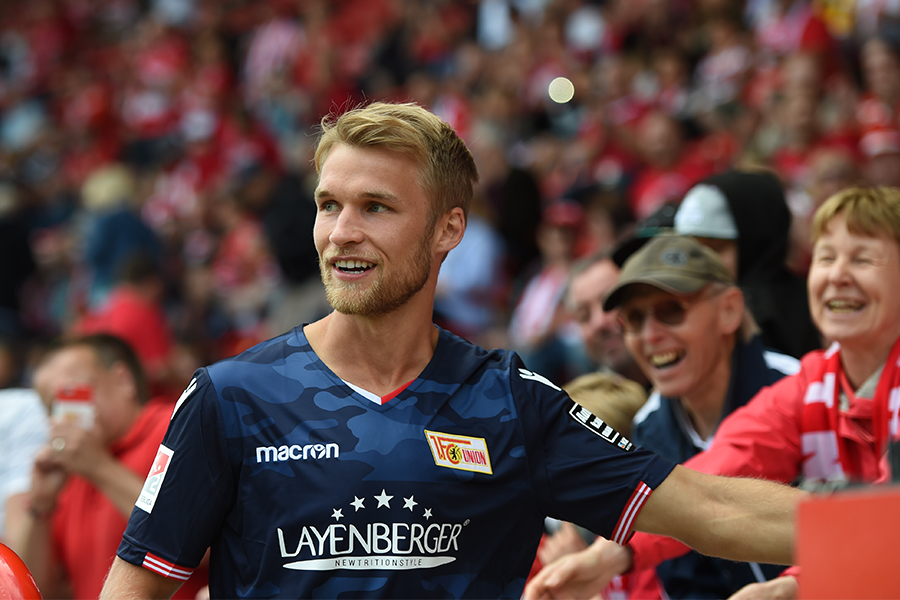 But it was ever thus. When describing the 1958 World Cup semi-final between Sweden and Germany, the doyen of English football journalism, Brian Glanville, still couldn't help his little-Englander perception of the world come into his report. "The Gothenburg match provided an extraordinary study in national behaviour, as the Swede's unfettered chauvinism put even the Germans' in the shade…" Nils Liedholm almost cut Fritz Walter in half with a brutal challenge that Glanville is certain should have resulted in a red card, and that effectively put him out of the game.
Andersson smiles at this story the first time he hears it. He knows all about Walter, of course. The stadium in Kaiserslautern is named after him. Andersson scored a hat-trick there on his debut. He didn't know that he'd been butchered in the World Cup semi-final by a Swede, though.
Andersson found it hard at Kaiserslautern, but then, the team were dreadful all last year. "It was very negative," is all he says. The fans weren't a problem, ever he could go out on the town and not be hassled, but he gives the impression of a club in complete disharmony with itself. Of one buckling under the weight of its own expectations, full of players, that he'll always be too polite to ever name, who were thinking only about themselves.
But it is also a small town. "It fits me better to be here."
You can get overlooked in Berlin. Especially as a player at Union. Hedlund had a hard time during his last season back home at Elfsborg. He'd get interrupted whilst having a coffee by fans wanting to know why he wasn't training all the time. But he can glide through the streets of Mitte, mostly unaccosted.
While Andersson's family are right here with him, learning like he is, to fit in to a new life in a city, Simon's wife is still in Sweden. He gets back when he can, but I infer that it doesn't make things easier. He doesn't go out clubbing, and he laughs when he says that "you'll find me where the tourists are." But it'd be easy to see a sadness in the statement. For no matter how pampered and feted you are, it can still be hard to lead an everyday life as young person in a foreign country.
They have it easy, easier than most, Hedlund and Andersson, but they aren't superhuman. When they don't have team-mates to rely on, or a screaming, roaring crowd to drown out whatever words are used out there anyway, they can be as fragile as everyone else. Because, even for the most confident person on earth, when the simplest of words fail you it can be a crushing blow. It can throw everything back to the beginning. You feel stupid. You feel out of place.
I'd asked to interview them together because of a presumption. The idea that because they come from the same country, they must be friends. But it would be wrong to call them friends, really. They haven't had time for that yet. Sometimes, though, the most important thing in the world is to have someone alongside you. Someone who will understand. Someone to laugh at your jokes. Someone to reminisce about a game played against each other long time ago. Someone who speaks your language.
Someone, maybe, who you can even ask to let you take a penalty that is by all rights his, because you really need a goal to get your momentum going.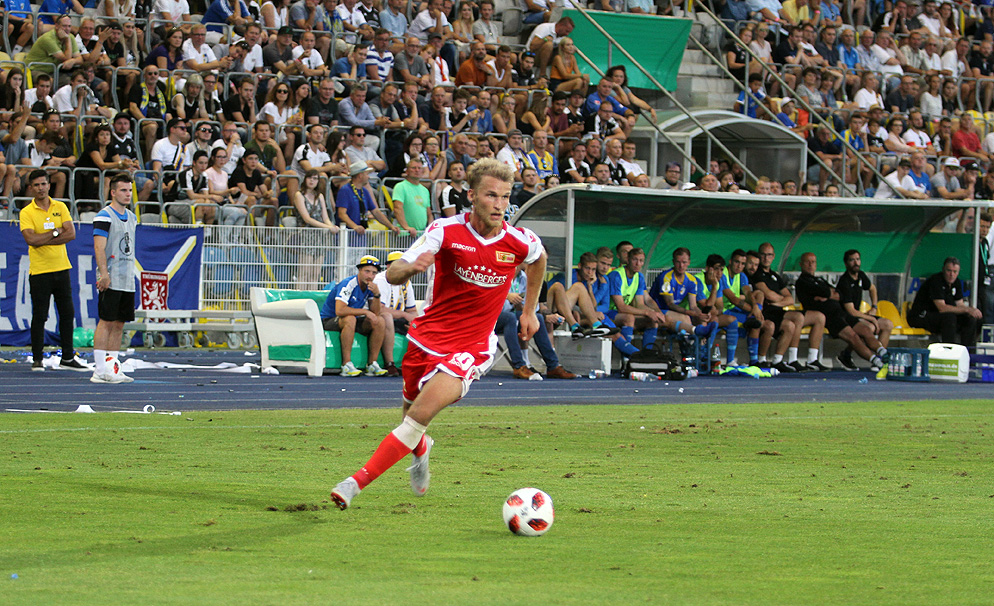 Andersson wasn't expecting the final question. He didn't even understand it at first. In any language, because it was about a UFO.
On May 18th, 1946, Gösta Carlsson came across a flying saucer in a clearing in the woods near his, and Andersson's, home town of Ängelholm in western Sweden. It appeared to be made out of a single piece of material and had a curious light sticking out of the top. He estimated it was about 50 feet across and several figures silently worked around it, wearing full white suits. He approached further, but was warned off by one of the figures. He didn't speak but used the international signal of a flat palm facing forward to mean "stop." Which he did, before eventually fleeing the whole unsettling scene.
Carlsson accrued a fabulous wealth over the following years. He had returned home covered in a yellow powder he was relieved to discover was pollen that had stuck to him as he made his way out of the undergrowth. It inspired him, he later said, to master the skill of harvesting the stuff to be used in anti-allergy medicines. But he never forgot his brief encounter. He said he owed everything to it, after all. So he erected a memorial to the flying saucer in the spot where he say it landed some twenty years later, in 1963. Five years after Sweden had reached the World Cup Final through their "unfettered chauvinism."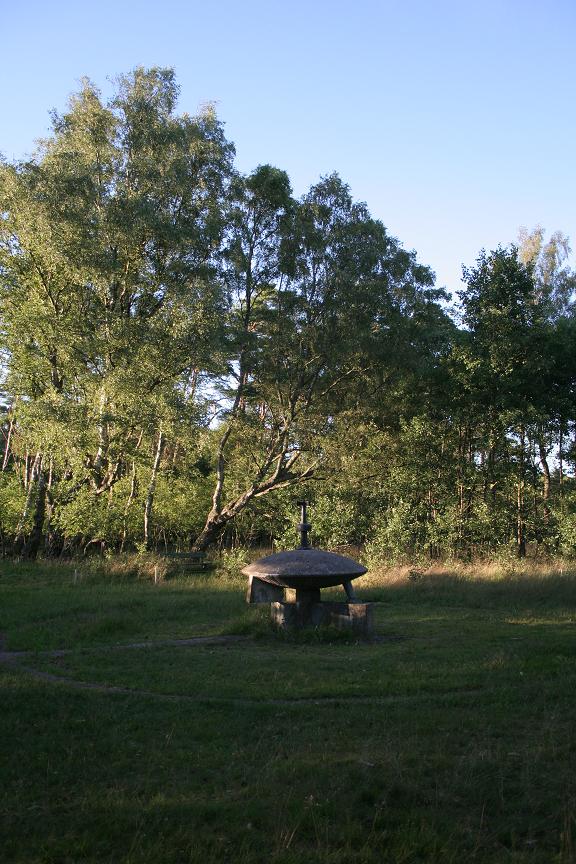 It is still there to this day, has achieved a curious fame, and remains a charming oddity. A stone and brass masterpiece of pre-steampunk simplicity tucked away in the forest, shored up by mighty timbers securing the footpath, surrounded by looming, spindly silver birch trees in their tens of thousands.
No-one believes Carlsson's story, for it is clearly a nonsense, but Andersson's dad took him to the memorial as a kid, and he told him that it was real. That a flying saucer had really come down there.
"I believed him. I was really afraid to go there. I don't really know why he told me that. I believed it until I was six or seven."
But I think I know why he told him it was a true story. It was because it was funny, and it's always a joy to gently take the piss out of your kids. For they'll grow up with a sense of humour, too. Like Andersson has.
Hedlund laughs incredulously at the idea that an alien intelligence so advanced that they could travel the vast wastes of the universe would come to take a stop in the middle of a birch forest four kilometres outside of a place that even he has never been to. And he grew up only a couple of hundred kilometres away. Because nobody really needs to go to Ängelholm. The forest is devastatingly pretty but it still remains a long way down the eternal lists that people compile of places to see before you die.
Quick as a whip Andersson has an answer. They were just stopping for spare parts. "Yeah. It's a metal port, you know."
They laugh again, uproariously. Happily. And we all leave to go in our separate directions and to speak a foreign language that we will always struggle in, no matter how hard we try. But I am comforted when I think of the great hip hop truism, because, in football at least, it doesn't matter where you're from, really. It's where you're at.